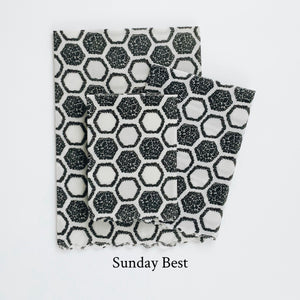 Bundles Beeswax Food Wrap - Sunday's Best
This bundle contains one wrap in each size.
Small: 8x8"
Medium: 10x10"
Large: 14x14"
Possible Uses:
Small
Form into snack-size bags, wrap avocado or lemon halves, cover small bowls, carry almonds, carrots, or crackers
Medium
Form into a bigger snack bag for chips, cover a small melon or mixing bowl
Large
Perfect for sandwiches, cover large melon or large mixing bowl
How to Use:
Seal wrap around food or container with the warmth of your hands.
Care Instructions:
Rinse with cool water after use. Mild dish soap when needed.Hang to dry. Avoid use with heat and raw meats. With proper care, wrap will last between 6-12 months.
This product is made with ingredients produced by other small businesses in the USA.